We repair everything on the iPhone including cracked screens, battery, charge port, camera, speaker and more! Same day repair on most models!

There are a lot of viruses and spyware for both Mac and Windows these days. We have the knowledge to repair the damage done from a virus infection and get you back to normal.

Are your files safe? Do you have recent backups of your pictures, documents and music? Call us today to discuss options to keep your information safe.
Do you have a Macbook or iMac that is running slow?  Not enough hard drive space?  Not sure if you are able or should upgrade to the newest OS?  We have the answers!  Come by to discuss your options with our experienced technicians.

Virus and Spyware Removal
Laptop Repairs (motherboards, DC Jacks, LCD Screens, keyboards, etc)
MAC/Apple Repairs
Business Networking & Service Contracts
Wireless Networking
Onsite Service 24/7
Remote Support 24/7
Home/DSL/Cable Networking
Computer Tune-ups & Set-ups
Backups & Data Recovery
Hardware Installation & Custom PC's
Training
Server Installations & Support
Security Systems & Cameras
Point of Sale Systems
Our internet cybercafe is open 7 days a week – Weekdays from 8 am to 8 pm and Weekends from 10 am to 6 pm
We have peripherals for all your needs!
Scanners & Printers
Cameras
Fax Machines
Headphones & Microphones
We even feature a large 36" wide format printer to print your own posters & photos!
Our staff is trained to help you on:
General Computer Questions
Resume Writing
Online Research
Photoshop, Illustrator & Flash Help
Office Applications: Word, Powerpoint, Acess, Excel
Website design
Gaming Strategy
We have software for all your needs
Graphics Applications
Design Applications
Programming Applications
Office Productivity Software
Resume Writing
Video Games
Do you need office supplies?  We have you covered!  Come by any time from 8am to 8pm during the midweek or 10 am to 6 pm on the weekends.  We offer a variety of office supplies and services including:
Copy Paper
USB Storage Drives
Router and Access Points for Wireless Networking
New and Used Computers
Internet Cafe
Fax, Scan and Copy Services
Why Pay Microsoft $140 for a repair?
Our trained technicians can diagnose and fix the following problems:
Red Lights – "Ring of Death"
Overheating
Error Codes (E74, etc)
Disc Drive Problems
Broken Trays that won't read or open.
PLAYSTATION 3 (PS3) REPAIRS
Yellow light of death "YLOD" / Red blinking light on start-up
Game discs freezing or no longer recognized
No power / no lights
Solid green power light but displays a black screen
Failed firmware updates or data corruption
Overheating / noisy fan issues
Screen only displays wavy lines when starting up and the main menu icons never appear
Visit or call our South Lake Tahoe Store Today
We build custom PCs to meet your exact needs.  Don't settle for a generic discounted computer, cut out out the middle man and we'll build you a custom high end pc at a huge savings.  All our PCs come with a 2 year warranty and currently range from $399 for an entry level PC to $999 for decked out i7, loaded with 8GB RAM and a custom case.
Gaming PC
Servers
Business & Graphics Computers
Workstations
Home PC
Used/Rebuilt Systems
If you need hardware to upgrade your current system, if you're looking to upgrade or just get something new, please call us for a quote!
We offer a very wide variety of computer & networking services to South Lake Tahoe and the Surrounding areas within 120 miles.
Service Areas
Reno, NV
Sparks, NV
Carson City, NV
Minden, NV
Gardernville, NV
Fallon, NV
Truckee, CA
Kings Beach, CA
Incline Village, NV
Stateline, NV
South Lake Tahoe, CA
Myers, CA
Pollock Pines, CA
Placerville, CA
Sacramento, CA
Anywhere with Remote Logon Service!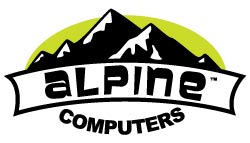 Alpine Computers
2717 Lake Tahoe Boulevard, Suite 2A
South Lake Tahoe, CA 96150
Open Daily: 10 am to 6 pm
Phone: 530.544.7377
Alpine Computers - (530) 544-7377