Upcoming Events
Alpine Computers is open 7 Days a Week, from 10am-6pm.
Birthday Party Reservations are now available at the Gaming Lounge.
Please call:
530-544-7377
to reserve now!
Check out our
Event Calendar
!
March 21, 2018 - PC Building Club
Learn about:
Picking & Installing Components
Intel vs AMD
Compatability Issues
Custom Case Lighting
ATI vs NVidia
OS Installation
Windows vs Linux
Troubleshooting
Benchmarking
Raspberry Pi
Monitors & Resolutions
March 22, 2018 - Super Smash Bros. Melee Tournament
We'll be holding a Smash Bros. Tournament in our Gaming Lounge on March 22, 2018. Test your skills against fellow gamers. (Limited Space Available: No Guests Please).
THE GAME: Super Smash Bros. Melee (GameCube)
THE MATCHES: 1 vs 1
THE DATE: Thursday, March 22, 2018
THE TIME: 6:00pm
THE COVER: $10 Buy-In (Pre-Registration Available. Stop by the shop anytime. No refunds.)
THE PRIZE: $50 Gift Certificate OR 2-Month Gaming Lounge Membership
March 30, 2018 - Go Local Business Expo
Get to know the most cutting-edge South Shore businesses at the Business EXPO: GO Local on Friday, March 30 from 4:30- 8:30 p.m. at the Harveys convention center. Tahoe Chamber's annual Business EXPO, presented by Heavenly Mountain Resort and Kirkwood Mountain Resort, is the largest business and networking event in the Lake Tahoe area.
The Business Expo will highlight nearly 90 local businesses and their latest products, programs, and services to over 1,500 attendees. All members of the community are encouraged to attend and can expect a night of food tasting, beer and wine sampling, live music and vendor giveaways.
Home of the $99 rate.1
Alpine Computers specializes in Computer Repairs, Cell Phone Repair & Virus Removals in South Lake Tahoe.  We also offer emergency business support, 24/7 emergency onsite and in-shop support & repairs to businesses within 120 miles.  Our shop offers a state of the art Cybercafe with 3 main business workstations.  We stock every kind of PC & networking parts, build custom PCs (yes we offer price matching on all parts & computers), and have vast knowledge with internet technology.  We have over 14 years in web graphic/website design experience, SEO, e-commerce, web hosting, data centers, etc.  We can handle any repair, from iPhone Screen repairs to even the worst virus removals. You can count on Alpine Computers for professional computer repair services throughout the South Lake Tahoe region. We offer friendly and fast in-shop, in-home, remote or in-business service 7 days a week. Call us now 530-544-7377.
1Most services are included at the $99 flat-rate. Prices are subject to change. Please inquire at our location or call 530-544-7377 for more information.
Data Backup and Data Recovery
Virus and Spyware Removal
Laptop and PC Repair (motherboards, power, screens…)
Cracked Screen Repairs
iPhone, iPod and iPad Repairs
Server Sales, Installations & Support
Hardware Installations & Upgrades, Networking components
Onsite Computer Repairs for Home, Small, Medium and Large Businesses
Business Networking in Reno and Northern California
Home DSL/Cable Networking
E-Waste Drop-Off
Computer Tune-up
Point of Sale Systems
Custom PC's
Emergency Service
Remote Support
Security Systems & Cameras
Training
Wireless Networking
Graphic & Web Design Portfolio
Xbox & Playstation Repairs
Office Supplies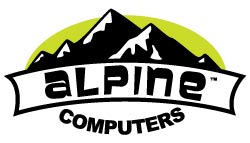 Alpine Computers
2717 Lake Tahoe Boulevard, Suite 2A
South Lake Tahoe, CA 96150
Open Daily: 10 am to 6 pm
Phone: 530.544.7377
Alpine Computers - (530) 544-7377